Click on Photo to Enlarge
After RHS I graduated from Syracuse University's five year architectural program with a Bachelor of Architecture, Cum Laude , traveled around USA for a few months, worked in New York City as a draftsman, and traveled some more in Europe.
Women in architecture were rare in the 60's, but I did become a licensed architect and was fortunate to have had a chance to work for some famous architects in my youth: Louis I. Kahn in Philadelphia, Moshe Safdie in Montreal (Expo 67 World's Fair) and Harry Weese in Chicago.
In 1965 I married fellow architectl and Navy Pilot, Bill Phillips, and we moved to Kenosha, Wisconsin. After several years, I joined Bill in our own partnership doing airbrushed architectural illustrations for some of Chicago's top architectural firms. Although Bill semi retired a few years ago, I am still doing renderings and enjoying it.

Hiking in Rocky Mountain National Park - August 2007

Click on Photo to Enlarge
I have served on civic boards in Kenosha and have been very much involved in Historic Preservation and saving parklands, receiving the 1987 Person of the Year Award.
Other interests have been bicycling, touring rides in the countryside and Europe, and promoting bicycle racing. One of our favorite vacations has been hiking in Colorado's Rocky Mountain National Park for three weeks each year with family members and friends. Another yearly vacation for us has been at the Experimental Aircraft Association AirVenture at Oshkosh where Bill met with fellow airplane enthusiast while I had fun volunteering on the Flightline patrolling on a motor scooter.
For the past 23 years we have lived in a 1888 Historic Landmark home that once belonged to Orson Welles's grandmother and "little Orson" received his first theatrical
Architectural Illustration

Click on Photo to Enlarge
experience on the stage of the third floor ballroom. Restoration and repair are always ongoing projects.

Roslyn was a good high school!
Who could have imagined then that we would one day be looking back 50 years?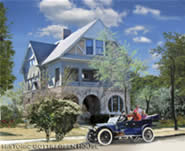 Gottfredsen-Phillips House
Click on Photo to Enlarge



I hope our Class of 57 fiftieth
reunion is a big success!

My best regards to all,
Merike Komendant Philips
September, 2007