Pat Van de Graaf is an Artist and Printmaker. She is a member of Redux Studio and an Exhibiting Member of The Charleston Artist's Guild in Charleston, SC and an Artist Member of The Silvermine Guild of Artists.

Dinghies

Click to Enlarge
Pat has been printing for over 25 years and studied at the Art Students League in New York City and Syracuse University. She graduated from The University of Bridgeport with a degree in Printmaking/Art History in the spring of 1990, having gone back to school as an adult student. She also studied with the late printmaker Jim Egleson and with University of Bridgeport professor and printmaker Jack O'Hara.
Although she enjoys doing woodcuts and especially Japanese woodcuts, she concentrates on etching,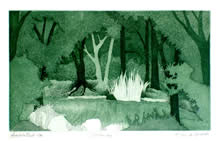 Serenity
Click to Enlarge
sometimes combined with silk screen techniques and/or hand-tinting. Pat's prints have won numerous awards in local and regional shows and she is represented at The Spencer Art Gallery, downtown Charleston, and in many private and corporate collections.

Pat began painting in watercolors again after moving to the Lowcountry. Surrounded by marshes and the sea in both SC and CT, she enjoys capturing their beauty with the unique qualities that watercolor brings to painting.

Pat is still married to Coby and has three grown sons and 7 grandchildren, ranging in age from 21 down to 7. She enjoys golf and walking and movies and parties.
October 2006
Click to Enlarge